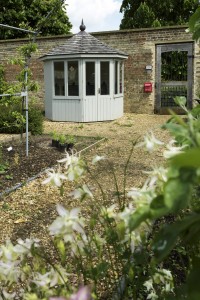 The Cambridgeshire Gardens Trust supports local projects with practical conservation work.
Ramsey Abbey Walled Kitchen Garden In 1997 a member of the newly formed Cambridgeshire Gardens Trust "discovered" a lost overgrown walled garden in the grounds of a school in Ramsey. This was the Victorian Kitchen Garden of Ramsey Abbey when it was a private house. The garden was a typical walled garden growing fruit, flowers and vegetables for the house with a full range of glasshouses along the north wall. The Trust decided to undertake the restoration of the garden which is now open to the public once a week from Easter to the end of October.
The estate was bought by the Fellowes family (later the Barons De Ramsey) in the 18th century. Sir John Soane was commissioned to work on the house with further work by Edward Blore. The fine gateway to the garden, of Ketton stone, is thought to be by Blore. The Gateway and walls date to the 1840s. The house and garden passed to Lady Diana Broughton, mother of our President Lord Fairhaven. On her death the site was taken over by Ramsey Grammar School and is now the site of Abbey College.
The garden was used in a piecemeal way. The glasshouses were taken down and the garden became very overgrown.
In the late 1990s, a group of volunteers started clearing the garden gradually and eventually a lease was signed. In 2004, The Ramsey Abbey Walled Kitchen Garden Trust was formed to restore and then manage the garden.
Clearing continued and with the help of a Heritage Lottery Grant a new access route to the garden via Ramsey Rural Museum was created and the original apple tunnel restored. The restoration and management of the garden is all done by a dedicated team of volunteers.
The garden is now planted with vegetables, herbaceous borders, a cutting garden, soft fruit and a range of fruit trees. The apple tunnel is planted with 20 pairs of apple trees which were originally bred in Cambridgeshire. Recently we have built cold frames, using reclaimed Warboys white bricks, and have installed wires against the walls for training wall fruit. In 2014 we installed a new urn in memory of John Drake, chairman of the Gardens Trust for its first 17 years, without whose enthusiasm and dedication this garden would have been lost.
For more information visit: www.ramseywalledgarden.org
Opening times: Sundays and bank holiday Mondays 2.00-5.00. Easter to end October. Groups by appointment. Free of charge.
Fresh produce, jams and chutneys available in season.