In September 2010 Cambridgeshire Gardens Trust started a five-year education programme for people within Cambridgeshire. Our strategy is to offer education opportunities for different age groups through five programmes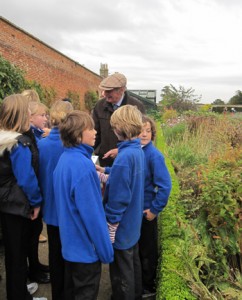 CGT Little Seedlings – for primary school children aged 4-12 years.
CGT Bright Futures – for middle school children aged 12–16 years.
CGT Research Grant – for further education students over 18 years studying garden history and related subjects.
CGT Garden Apprentice – open to any age group currently on a garden-related apprenticeship scheme.
CGT Day Lectures – designed for over 18's but open to anyone.
The education programme is supported by contributions from your membership, funds raised by the lectures, and donations from supporters.
If you would like to help organise education events or have a project that you think would benefit from our support or if you would like to make a donation to support the education programme, please contact Ann Colbert on [email protected].
Aims and Objectives:-
To improve awareness and appreciation of Cambridgeshire heritage landscapes, parks and gardens.
To promote an appreciation of landscape and horticulture by young people.
Education Approach:-
Heritage landscape, park and garden visits for members and friends
Lectures and seminars on local and wider aspects of landscape and plant history
Promote landscape-related competitions and projects for schools
Offer financial sponsorship to young people and those studying garden history or related subjects
Support the research programme by helping to disseminate research information